China Automatic Horizontal Coil Wrapping Line Suppliers and Manufacturers – Cheap Price Automatic Horizontal Coil Wrapping Line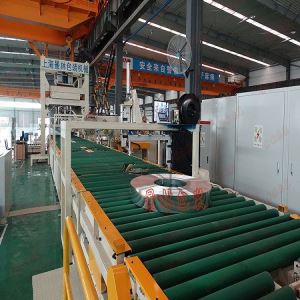 # AUTOMATIC HORIZONTAL COIL WRAPPING LINE
The automatic horizontal coil wrapping line is designed to meet the highly automation requirements for packing steel, copper, and aluminum coils. It comes with a range of features that make it efficient and safe. In this article, we will explore the work process, basic features, and detailed description of this machine.
## WORK PROCESS
The automatic horizontal coil wrapping line consists of a turnstile, coil upender, roller conveyor, strapping machine, automatic wrapping machine, weighting conveyor, and automatic stacking machine. Here is a step-by-step process of how it works:
1. The steel coils are stored on the turnstile.
2. The coil picking system picks the steel coils from the turnstile one by one and tilt them for 90 degrees.
3. The coil is transferred to the strapping station to be strapped by PP tape.
4. Automatic coil centering takes place.
5. The coil is conveyed to the packing station for automatic packing.
6. Stacking the coils after centering. The lifting table will adjust the stacking height automatically.
7. The products are conveyed to the storing station and stored temporarily.
8. The stacked objects are moved away by forklift, thus finishing the working process.
## BASIC FEATURES
The following are some key features of the automatic horizontal coil wrapping line:
1. High security: The machine is equipped with guardrails and other safe covers.
2. Highly automatic and highly efficient: The machine is designed for continuous high-intensity operation.
3. Scientific design and reasonable layout: The machine is designed in a way that can adapt to different working conditions.
4. High electrical configuration: The machine is well designed to ensure good working operations.
5. Easy operation and convenient maintenance: The machine is easy to operate and maintain.
## DETAILED DESCRIPTION
### I. TURNSTILE
The turnstile is located in the front part and is connected to the machinery using a cross structure. It has the following features:
1. Precise positioning.
2. Hollow structure in the arm for coil tacking.
3. The turnstile has automatic positioning.
4. Cross structure.
### II. UPENDER
The upender is a device that separates the coils from the cross arm one by one and turns the coil over for 90 degrees. It has the following features:
1. Connected with the turnstile directly
2. Inner through type
3. Separates out the coils with different width precisely form turnstile.
4. Prevents the surface of coils from being damaged.
5. Can be used separately or equipped with the wrapping machine.
6. Drive mode: Hydraulic and mechanical combined.
7. Control: PLC and HMI adopted.
### III. AUTOMATIC WRAPPING MACHINE
The automatic wrapping machine is controlled by PLC and HMI automatic operation. It has the following features:
1. Manual/auto mode for choose.
2. Frequency control of motor speed, overlap rate could be adjusted according to the requirements.
3. Simple operation by inputting object OD, ID, width, and corrected parameter.
4. Automatic positioning, automatic cutting.
5. Packing tape be feed and clamped by a mechanical hand.
6. Novelty design, material tension could be adjusted automatically.
7. Separate electrical cabinet adopted, which makes operation & maintenance easier.
### IV. STACKING MACHINE
The stacking machine has the following features:
1. One stacking system with 4 stations for different sizes of the coil.
2. Can meet the stacking requirements of coils of different specifications.
3. Height level of the stacking station can be adjusted automatically by hydraulic.
4. Reciprocating structure adopted, safe, effective, and practical. Wide range of stacking height and wide range of application.
5. Pull-out structure adopted, with an anti-deflection positioning device.
## REFERENCE PARAMETERS
Object: steel/copper strip coils
Width: 30-300mm
OD: 900-1400mm
ID: Φ508 mm
Weight: ≤1000kg
Wrapping material: compound packing tape W:90mm,OD:450mm,ID:55mm
Ring speed: app.20-90r/min(adjustable)
Overlapping rate: 20%~90% adjustable
Power output: app.5.0kw
Power supply: AC/380V/50Hz
Air supply: 6-8kgf/cm2
(Note: the machine can be custom-designed according to specific object size.)
## CONCLUSION
The automatic horizontal coil wrapping line is highly efficient and delivers excellent results in terms of pace and precision. The machine is well suited for industrial use and can be customized according to specific object size. With its innovative features and design, it represents an ideal solution for anyone looking to improve their coil packing process.