China Metal Coil Wrapping Machine Suppliers and Manufacturers – Cheap Price Metal Coil Wrapping Machine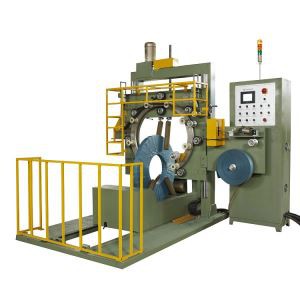 # Metal Coil Wrapping Machine
A metal coil wrapping machine is a device that is used to pack metal coils, such as steel coils, copper coils, wire coils, and tire coils, etc., to ensure they are well-protected during transportation. The device is designed to seal, waterproof, dustproof, rustproof, and secure the products.
## Machine Application
The packing machine is specially developed for metallurgical industries, including steel mills and wire mills, where coils are produced and need to be packaged, and for other industries where metal coils are used as raw materials. The machine can be used for a wide range of products, including coils, strands, pipes, tires, and bearings.
## Basic Features
The metal coil wrapping machine is designed with unique features that make it efficient and safe. Some of the features include:
– Moving trolley station for high efficient loading and safe operation
– PLC program control and HMI screen operation
– Adjustable overlapping of wrapping material with the help of converters
– Height adjustment of the turning ring based on the diameter of the metal coil
– Control of ring speed and roller speed with converters
– Steady tension control system
– Solid whole casting structure for turning ring
– Capability to use different kinds of wrapping material
– Stable performance and easy maintenance
## Operations
The machine is straightforward to operate. Here are the main steps involved:
– Load the coil onto the trolley using a crane/lifting rope/hoist
– Forward the trolley to the coil wrapping position
– Set the coil dimensions and related data on the HMI screen
– Fix the wrapping tape on the metal coil
– The machine starts wrapping automatically and stops automatically
– Move out the packed coil from the wrapping station using the trolley
– Unload the packed coil using a crane
## Main Parameters
Different models of the metal coil wrapping machine have different parameters. Here are the specifications for two common models:
| Model | GD600 | GD800 |
|——-|——-|——-|
| Coil width | 150mm-600mm | 400mm-800mm |
| Coil OD | 800mm-1600mm | 1000mm-1900mm |
| Coil ID | 508mm/610mm | 508mm/610mm |
| Coil weight | 300kg-6000Kg | 1000Kg-12000kg |
| Ring speed | Appr. 20-80r/min | Appr. 20-60r/min |
| Roller speed | 5-8m/min | 5-8m/min |
| Power output | 7.5KW | 10.5KW |
| Power supply | AC/380V/50Hz | AC/380V/50Hz |
| Air supply | 6-8kgf/cm2 | 6-8kgf/cm2 |
| Packing material | Different kinds of wrapping material | Different kinds of wrapping material |
| Automatic manipulator | Optional | Optional |
| Synchronous wrapping system | Optional | Optional |
Note: The data is only for reference. The machine can be custom-designed based on specific object size.
## Jinglin Products Available
Jinglin is a leading supplier of packing machines in China. Here are some of the packing machines Jinglin provides:
– Steel/aluminum/copper/wire coil type wrapping machine
– Pipe/cable/tube/pipe/tyre/bearing packing machine
– Horizontal pipe/tube/door stretch wrapping machine
– Pallet stretch wrapping machine
– Automatic steel/copper coil packing line
– Automatic plastic pipe bundling&bagging line
– Automatic steel tube bundling& packing line
– Coil upender
– Other customized packing machines
## Conclusion
If you are looking for a reliable, efficient, and safe metal coil wrapping machine, Jinglin has got you covered. With its wide range of products and experience in the industry, Jinglin is a top supplier of metal coil wrapping machines in China.