"New Strapping Open Clip Machine with Dual Counter for Shipment to Cote d'Ivoire"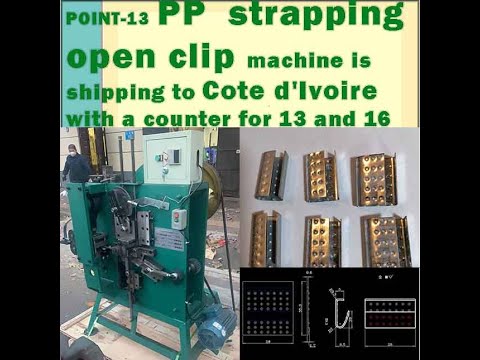 Looking for a top-notch strapping open clip machine? Look no further than the POINT 13 PP, now shipping to Cote d'Ivoire! This machine comes equipped with a counter for both 13 and 16 strapping.
In this video, we'll dive into the features and benefits of the POINT 13 PP machine. You'll learn how it can help streamline your strapping process and save you time and money. Our expert team will walk you through the machine's key points, highlighting interesting and important information you won't want to miss.
If you're interested in staying up to date with our latest videos and content, be sure to check out our social media links [link here]. By following us, you'll get access to behind-the-scenes looks at our products, promotions, and more.
Thanks for watching, and don't forget to like, subscribe, and share this video if you found it helpful! We appreciate your support.
Additional tags and keywords: strapping machine, packaging, shipping, manufacturing, packaging equipment, coil packing
Hashtags: #strappingmachine #packaging #shipping #manufacturing #packagingequipment #coilpacking
Looking for more professional packing solutions? Check out the leading manufacturer in the industry [link here]. Coil Wrapping Machine