"Efficient Steel Rope Rewinding Machine for Coiling from Large Spools to Smaller Reels"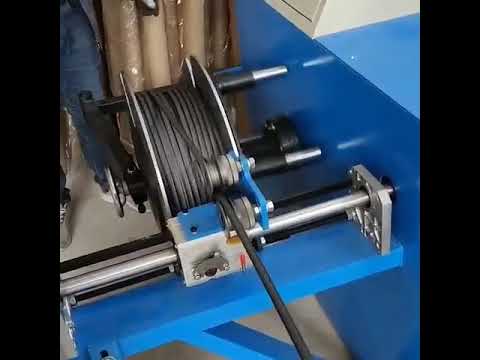 Are you tired of struggling with unwieldy steel ropes? Look no further than the Steel Rope Rewinding Coiling Machine! This innovative tool makes the process of winding large spools of steel rope into smaller coils quick and easy.
In this informative video, we'll take a closer look at how the Steel Rope Rewinding Coiling Machine works and its key features. You'll learn about the benefits of using this machine, including increased efficiency and reduced strain on workers.
The Steel Rope Rewinding Coiling Machine is designed to work with a variety of cable and tube materials, making it a versatile addition to any manufacturing or construction operation. With its precise winding capabilities, this machine ensures that each coil is perfectly compact and easy to transport.
To get started with the Steel Rope Rewinding Coiling Machine, simply load the spool onto the machine and adjust the settings to your desired specifications. In just a few minutes, the machine will have wound the steel rope into a neat, manageable coil.
Don't let bulky steel ropes slow down your operations any longer. Invest in the Steel Rope Rewinding Coiling Machine today and save time and effort.
Remember to like and subscribe to our channel for more informative videos like this one. Also, be sure to share this video with others who may benefit from this innovative technology.
Additional Tags and Keywords: Steel Rope Rewinding, Coiling Machine, Cable, Tube, Manufacturing, Construction, Efficiency, Precise Winding, Compact Coil, Transport.
Hashtags: #steelroperewinding #coilpacking #manufacturing #construction
Check out our website for more information on the Steel Rope Rewinding Coiling Machine and other packing solutions. Coil Wrapping Machine