Mechanical Upender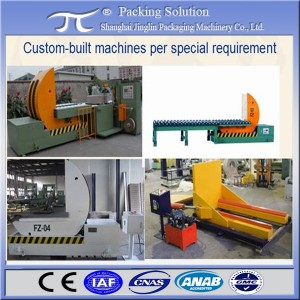 Specification:
Handles coil weights around 3 000 – 20 000 kg
 Tilts coil around 90°
 Safe and easy to use
 Might be fitted with 180° horizontal rotation function
 Modified to AGAB:s coil transporter Coil Truck
OPERATION:
 1. Put the machine within the corresponding neat melt pit keep your working top of the machine equalized using the ground
 2. Connect the energy supply based on the dependence on the nameplate, and make certain if it is associated with our planet wire dependably.
 3. Adjust the levelness from the machine, to really make it stand it a horizontal condition.
 4. Check and make certain whether all of the switch positions work and firm.
 5. Install the exterior guardrail from the machine and connect it effectively.
Technical date:
Items

FZ-03

FZ-06

FZ-10

FZ-15

FZ-30

FZ-02-180

Max loading

3T

6

10T

15

30

2

Turn-over speed

50min±10%

50min±10%

60min±10%

80min±10%

120min±10%

100min±20%

Transfer mode

Double chain/four roller/

Oblique& worm speed reducer

Double chain/four roller/

hard tooth-face speed reducer

Double chain/four roller/

Oblique& worm speed reducer

Power output

0.75kw

1.5kw

2.2kw

3.7kw

5.5kw

1.5kw

Ratio

1:286

1:286

1:286

1:286

1:286

1:286

Perspective

90º

90º

90º

90º

90º

180º

Power voltage

3 phase 380V

3 phase 380V

3 phase 380V

3 phase 380V

3 phase 380V

3 phase 380V

Working mode

Semi-auto/ remote control

Semi-auto/ remote control

Semi-auto/ remote control

Semi-auto/ remote control

Semi-auto/ remote control

Semi-auto/ remote control
About Us:

SHJLPACK a worldwide provider of custom packaging that gives superior protection for Steel coil and Wire coil, as global director of quality will result in delivering outstanding plan to clients,We're among a few of the noted producers, exporters and providers of the wide gamut of Motorized Coil Tilter,Hydraulic Tilter,Mechanical Mold Upender. To create and manufacture these tilter we take advantage of highest quality fundamental material that is acquired from a few of the licensed suppliers of the profession. Our offered tilter machine includes a hydraulic unit that is broadly accustomed to change the positioning of the coil. Our selection is better regarded as  highest quality material making certain the durability of those.
Infrastructure:

 We have a well developed manufacturing unit spread across 3000 Sq Ft area of land. The most advanced machinery is employed to manufacture our products.
Machinery:
SHJLPACK has a wide range of extremely sophisticated machinery. Our packaging processes all the products through the advanced machinery installed at our plant. We have highly efficient employee.
We have imported Motorized Coil Tilter,Hydraulic Tilter,Mechanical Mold Upender is coil handling equipment which mainly affect turn the objects in metallurgical industry. Additionally, it broadly utilized in the module up-ending, coil turning, modules upending, roll upending machine in above pictures is perfect for steel coil, wire coil., aluminum coil .
 Quality Assurance:
We use the best quality raw material for manufacturing our products. Each piece of our products is tested to ensure flawlessness before being dispatched at the client's end. Moreover, our research and development facilities ascertain constant improvement in the quality of our products.
Corporate Culture:

At SHJLPACK, we continually work to develop new packaging machines to keep pace with the changing demands of the industry. Our continued focus on product research and development, over ten years of experience, competent R&D engineers, and use of internationally advanced manufacturing technology combine to enable us to continuously bring new models of our pallet wrapping machine, steel coil wrapping machine, pipe wrapping machine and coil tilter to the market.
In our history, we at Jinglin have provided more than 40,000 quality packaging machines to over 1,600 domestic and overseas customers. Some of our prestigious customers include TONG REN TANG, CSIC, BASF, IKEA, TOTO, IBM, REVLON, SWELL, HITACHI, BAOSTEEL, GM, TATA, FROMM, to name a few.
We are located in Shanghai, where we have easy access to convenient seaports, highways, and airports. This greatly facilitates the delivery of products and reduces the shipping charges for our international customers.
Corporate Honor: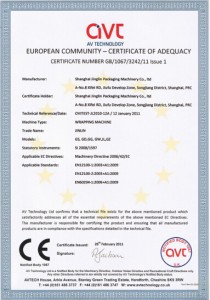 As a leading professional packaging machinery manufacturer in China, SHJLPACK specialize in manufacturing pallet wrapping machine, coil wrapper,coil tilter, automatic coil packaging line, etc. The products are designed per specification of the equipment and packing goal. Thus, our machines have been well received by client  around the world such as Russia, Iran, Morocco, Sweden, Australia, USA…. In addition, our packaging machinery has been CE certified. Let me know your requirement,and we are ready to serve you.
 Organization Chart: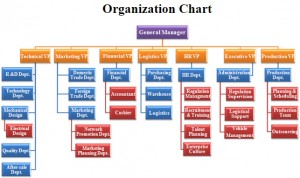 Company Profile:
Name
Shanghai Jing Lin Packaging Machinery Co., Ltd.
Established
1998
Address
 No.565, Dongkai Road, Dongjing Town, Songjiang District,Shanghai, P.R.China.Post Code: 201619
Turnover
6 Crores
Director
Dr.Angela
Employees
300
Group Companies
Shanghai Jinglin Packaging Machinery Co., Ltd.
Business Fields
Design, manufacture and sales of bearing wrapping machine,
automatic bearing packing line, plastic pipe bundling & strapping wrapping machine, plastic pipe bagging machine,
automatic bundling & bagging machinery system, steel wire & coil wrapping machine.
Dispatching: