Vertical Tire Package Machinery
GS series tire package machinery is a kind of vertical orbital model packing machine. Packing material installed on aluminum packing ring, when ring passes through tire's center, then packing material(s) will pack the tire for orbital package.
Available packing material including LLDPE film, LDPE film, HDPE film, aluminum foil tape, AF tape, PE tape, PET tape, woven belt, paper, crepe paper, teflon, non-woven fabric and etc. This vertical tire package machinery is extensively used to pack all kinds of tires, such as TBR tire, TBB tire, LTR tire, LTB tire, OTR tire, PCR tire, AGR tire, ACR tire, IDR tire, MCR tire.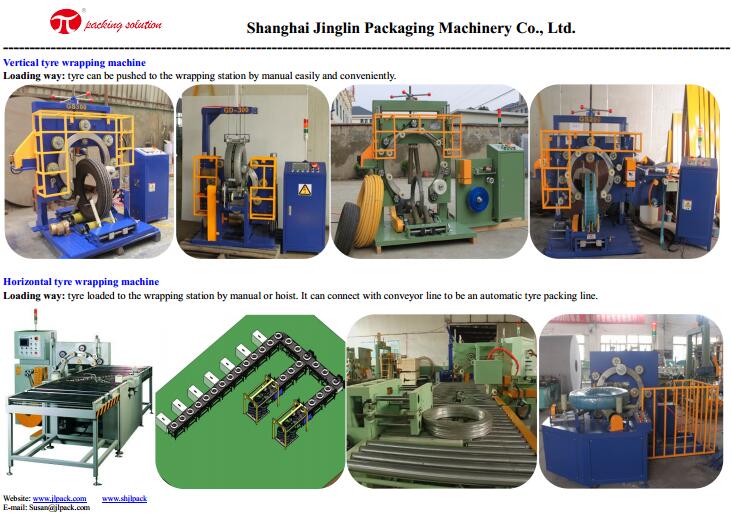 Here i will answer some common question of tire package machinery as below:
1) Does it have any tire brand limitation for this tire package machine usage?
— The answer is no. Although all tires are round, but different brand tires, outside structure of them are different, too. There are many brands of tires in the market, like MICHELIN、GOODYEAR、CONTINENTAL、DUNLOP、SUMITOMO、GRANDTOUR、KUMHO、 HANKOOK、YOKOHAMA、BRIDGESTONE、PIRELLI、CHENSHIN、KENDA、KINGSTIRE…SHJLPACK company is a professional manufacturer of tire package machine, we will adjust the tire package machine according to different tires' structure, making the best suitable machine to meet different tires' package requirement.
2) How to choose suitable tire package machinery for different size of tires?
–Our tire package machinery is customized, so as to meet different customers' tires size and packing requirement.
This tire package machinery is made for small and big size of tires' package. Tire's section width, section height and wheel rim ID decide tire package machinery's configuration and structure. We will make different configuration and structure tire package machinery for different size of tires. For example 205/55/R16 PC tire, it is smaller, the GS200 tire package machinery is suitable for its package. While for LT & TB & OTR bigger tire, the GS400 or GS500 & GS600 is better for their package.
If the tire is very light, just like the bicycle tires, we will add a press down device to press tire, so as to prevent tire from shaking or off-tracking during package. No matter what kind of packing requirement you needed, please feel free to contact us, we will offer the best professional sugguestion and solution to satisfy your need!
This is the video link of tire package for your reference: http://www.shjlpack.com/info/tyre-wrapping-machine-gs300/
More details of tire package machinery, welcome to visit our website: www.shjlpack.com