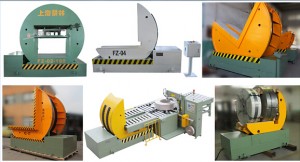 FZ-10 Automatic Tilter, Automatic coil upender, Steel coil turnover machine
Automatic tilter is a kind of turning machine for dislocation of heavy objects, such as coil, mould, sheet materials, drum and other products. It is mainly applied for turning the objects from vertical to horizontal or from horizontal to vertical, which is widely used in metallurgical industries and sheet industries.
Application:
Automatic tilter can be mainly classified into three modes: coil tilter, mould tilter and sheet materials tilter. Different kinds of tilter, the turning requirement  is different, too. Such as the coil tilter, in order to centering the steel coil well, turning surface of the machine is groove. It can automatic centering, aligning and protecting the coil when turning. Considering open & close and hoisting the mould easier and more convenient, design of the tilter's turning surface is flat. ..
Turning 90 degree and 180 degree with this tilter are available; it designed as to different industries' usage requirement. Electric and hydraulic driving mode are also can be used for different weight of materials. After receiving customers' product information and turning requirement, SHJLPACK will make a proper & professional solution to meet your turning demand as soon as possible.
Features:
*Auto or semi-auto working mode is available.
*Connecting with conveying line, powered rollers and unpowered rollers can be used;
* Different loading weight machine made according to detail requirement;
* Hydraulic or electrical driving force for choose;
*Special groove surface design is good for centering and protect the coils;
*90 degree and 180 degree turning angle are available;
*Adopt special double chain drive, oblique gear & worm speed device;
*Four-roller device equips with polyamide;
*Inverter controls system, to make sure usage effective, fast, durable and safe;
* Mechanical pressure device is available;
*Separate control panel convenient for remote operation;
*Multiple position and protective guardrail ensure safety operation;
*Four –roller device wrapped with polyamide adhesive;
* Adopt frequency inverter for safe operation;
*Adjustable mechanical pressure device is used;
*Groove and flat surface can be choose.
TECHNICAL DATA:
Items
FZ-03
FZ-06
FZ-10
FZ-15
FZ-30
Max loading
3T
6T
10T
15T
30T
Turn-over speed
50sec±10%
50sec±10%
60sec±10%
80sec±10%
120sec±10%
Transfer mode
Double chain/four roller/oblique & worm speed reducer
Double chain/four roller/hard tooth-face speed reducer
Ratio
1:286
1:286
1:286
1:286
1:286
Power output
0.75 kw
1.5 kw
2.2 kw
3.7 kw
5.5 kw
Perspective
90℃
90℃
90℃
90℃
90℃
Power voltage
380V, 50HZ
380V, 50HZ
380V, 50HZ
380V, 50HZ
380V, 50HZ
Working mode
Semi-auto/ remote control
Semi-auto/ remote control
Semi-auto/ remote control
Semi-auto/ remote control
Semi-auto/remote control