Hydraulic Aluminum Coil Tilter FZ-H04
Hydraulic aluminum coil tilter FZ-H04 is a remote control coil tilter. It is driven by hydraulic pump and hydraulic ram.
Shanghai Jinglin Packaging Machinery Co.,Ltd is an excellent manufacturer of coil tilter. The tilter can be used to tilt steel coil, aluminum coil, steel sheet, mould, paper roll, plywood , other coil and flat products, even irregular products for 90°and 180°.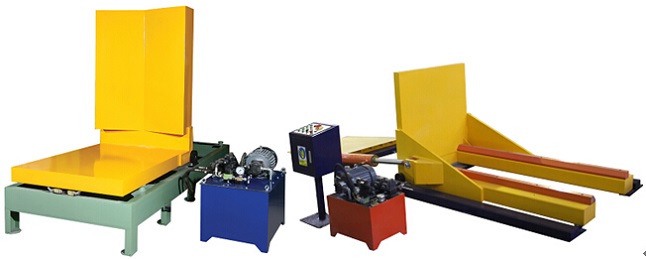 Following are the brief introduce aluminum coil tilter features and usage technical data.
I. FEATURES:
Speed of tilting is adjustable.
Control panel or remote operation.
Tilter is able to stop at any angle.
Smooth, accurate, vibration-free motion.
Easy operation and simple maintenance.
Inner locks compliance with standard.
Hydraulic pump drive, hydraulic ram push coil for tilting.
Electric panel control in Chinese and English.
Audio visual alarm. Alarm automatically when trouble occurs.
Micrometric setting for adjusting the floor level.
Inverter controls, fast, stable and safe.
Displacement restrictors adopted to guarantee a safety operation.
The machine can be stop at any angle in turning for safe operation.
Emergence stop and position locking function avoid rotation.
V size working table for coil centering.
Soft start and stop.
Stable hooks easy for tilter movement.
II. SPECIFICATIONS:                                                                                                                               Aluminum coil tilter
No.
Item
Parameter
1
Purpose
To Tilt Aluminum Coil
2
Working mode
Remote control/Semi-Automatic
3
Coil Dimension
OD 600-1200 mm x W1200mm
4
Load
4000kg Max
5
Turn over speed
50-60sec
6
Transfer mode
Hydraulic Cylinder
7
Perspective
90 degree
8
Power voltage
400V, 3phase 5wires
9
Frequency
60HZ
10
Scope of supply
1) Tilter unit as described above.

2) Hydraulic power pack unit.

3) Operating penal.

4) Push button station.

5) Interconnecting cable.

6) Limit switches.

7) Inter connecting hydraulic piping and clamps.

8) Audio visual alarm.

9) Operational and maintenance manual.

10) Two sets of GA drawings, foundation drawing, electrical circuit diagram, wear parts drawing.

11) One set of maintenance tool kit.

11
Safety
Inter locks & compliance with standards.
III. Guarantee value:                                                                                                                                        A) Loading: 4T                                                                                                                                                              B) Objects: aluminum coil
Working hours of the machine
Effective working hour per year: 7200h.
Ambient air temperature from -50С to +40С;
Relative humidity at temperature 350С – max 90%;
Dust content – max 3mg/m3; – CY duty cycle – max 50%
Environmental protection:
Noise control of the equipment environment: Meet with the national requirements for noise control.
Emission standard:
Emission of the waste gas and waste water meet with national requirements.