180 degree plate tilter made in China
SHJLPACK company research and development FZ series 180 degree plat tilter applied for plate, motor vertical production, electrical application, machining and other industries. The tilter can be divided into three modes: "O" mode online plate tilter, "C" mode mechanical plate tilter and "C" mode hydraulic plate tilter.
180 degree plat tilter can be used to tilt plate for 180 degree safe and stable. The plate conveyed to the tilter station automatically, orientation automatically and then for tilting with 180 degree automatically. After tilting, the plate conveyed to the taking out station after sensor detecting that.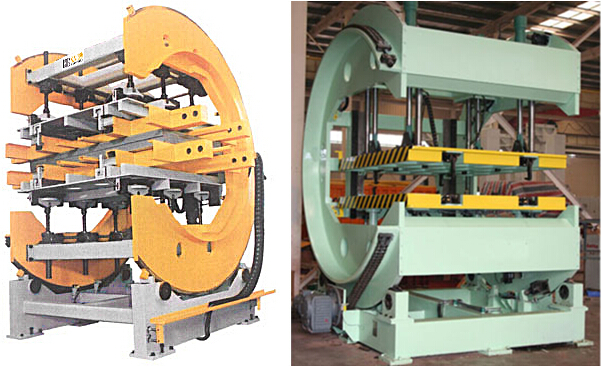 180 degree plat tilter with complete safe protection and error detects system, which adopts PLC control system, HMI touch screen. According to the clamp pattern, the plate tilter also can be divided into pneumatic clamp tilter and hydraulic clamp tilter.
Clamp strength both can be adjusted automatically, in case of plate slide down with these two kinds of tilters. The pneumatic clamp tilter clamp strength is softer, it is environment protection, so it is a better choice for customers. 
Features:
Professional and quality reliable.
Clamp strength adjustable.
PLC & HMI control system.
Perfect error detecting system.
Automatic orientation.
Safe and durable.
Strong mechanical structure.
Easy operation.
Simply maintenance.
Remote control panel.